Molecular Biology / Bioinformatics - Master
Occupational Fields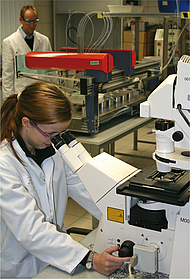 These days, molecular biology and bioinformatics are intertwined. Graduates of the Master's Programme of Molecular Biology/Bioinformatics have the skills to work in both disciplines, as well as serve at the interface between the two. Therefore, they have the best qualifications for the following research and industrial sectors to work:
• Pharmaceutical and chemical industries
• Food industry
• Genetic engineering
• Database services
• Software development
• Genome research
• Forensic and genetic diagnostics
• Proteinanalysis
Objectives of study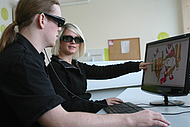 Bioinformatics and molecular biology are young, emerging, and challenging areas of science at the interface of computer science and life sciences disciplines. Bioinformatics as well as molecular biology are integral to the current advances in biotechnology, molecular biology, pharmacology and medicine.

The Master of Science programme of Molecular Biology / Bioinformatics is a two-year interdisciplinary degree programme that is aimed at highly qualified students. The aim of the programme is to provide graduates with the knowledge of the methodology in bioinformatics and molecular biology and an expansion of the necessary background knowledge in computer science and biomathematics. This is done through a wide range of lectures, seminars, and practical courses in molecular biology, mathematical biology, computer science and bioinformatics. The curriculum allows for individual configuration of the course composition on the basis of previous training and the desired specialisation of the student. During the internship and the Master's thesis, students in specific research projects from both industry and the university are involved. The Master's programme creates, expands, and deepens the biology and computer science knowledge while providing a sound foundation in molecular biology and bioinformatics.

The Master's programme is research-oriented, and trains students for independent scientific work. Students will attend lectures, seminars and tutorials selected based on their prior knowledge. The 7-week internship in industry or at research institutions at the end of the 3rd semester provides a very practical education. In the 4th semester the students write their Master's thesis (20 weeks). Successful graduates of the Master of Science degree programme have the opportunity to do a doctorate.
Curricular design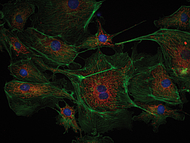 Beginning in each winter semester, the Master's degree of Molecular Biology / Bioinformatics includes 4 semesters of study and is completed as the international academic degree of Master of Science (MSc). Requirements: The Master of Molecular Biology/Bioinformatics programme is designed with the following consecutive requirements: sound basic biological knowledge, knowledge in mathematics / mathematical biology, computer science, and bioinformatics are required. The course can be broken down because of its open structure in the following sections of learning:
1. Semester: Adaptation - on basis of previous statements
2. Semester: Expression of the master specific knowledge
3. Semester: Specialisation and improvement of disciplines
4. Semester: Master Project
Application
Enrolment will only be granted on full submission of required documents:
Application for enrolment

Annex to the application for enrolment in admission restricted

Legally attested copy of university entrance qualification

Personal data sheet

Photo with name

Sufficiently stamped envelope, containing own address
Please note the valid deadlines for application.
| | |
| --- | --- |
| Responsible | Faculty Mathematics/Sciences/Computer Science |
| Fields of stuy | Molecular Biology / Bioinformatics |
| Degree | Master of Science, M.Sc. |
| Regelar study period | 4 semesters |
| Further education | doctorate |
| Start / Typ of studies | winter semester / Full time studies |
| Entrance limitation | no |
| Accreditied | planned 2011 |
Application requirements
Take up studies at the Mittweida University of Applied Sciences can applicants who
- possess a first higher education degree in one of the subject areas Biology, Biotechnology, Bioinformatics, Computer Science or Mathematics with a regular study period of at least 6 semesters or
- applicants who can prove a an equivalent entrance qualification.