---
Information Systems, Bachelor of Science
| | |
| --- | --- |
| Responsible | Faculty Mathematics / Physics / Computer Scence |
| Field of studies | Information Systems |
| Degree | Bachelor of Science, B.Sc. |
| Regular period of studies | 6 semesters |
| Further education | Master of Science |
| Start/Typ of studies | winter semesters / full time studies |
| Entrance limitation | No |
| Accredited | Yes / Certificate |

Today, informatics influences nearly all segments of daily life. Being an interdisciplinary course, business informatics makes the connection between informatics itself and business administration and is especially concerned with the application of informatics in the environment of industry and commerce, such as materials administration/logistics, accounting, and organization of motor pools and the management of customer contacts. Therefore, there are manifold fields of application for business informaticians. The Mittweida university bachelor's course in Business Informatics offers the first occupational qualification in the form of a 'Bachelor of Science' (B.Sc.) graduation after three years.
Occupational fields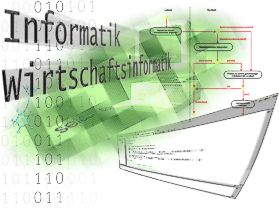 Information is one of the most important factors in global economy. Business informaticians are acknowledged experts and specialists for information retrieval as well as the processing and presentation of information, in particular on business processes in enterprises and public institutions. Accordingly, the business informatician's areas of application are versatile, such as
Application development

Enterprise and business process modelling

IT-security

Data base and web development

Network administration

IT-controlling

Project and information management

Sales

IT-counseling and consulting
Thus, graduates of this degree course can engage in design, projecting, specification and development of operational information systems. Further areas of application can be found in the operational, dispositive and strategic information management. These include application preparation and maintenance of software systems, building, management and use of database, information and expert systems in enterprises or non-profit organizations.
Objectives of study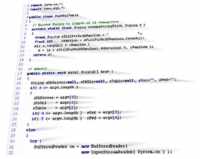 Target and content of the Bachelor's degree course in Business Informatics are characterized by the current occupational image of the business informatician. With their acquired expertise and knowledge of methods, as well as through the application of modern methods and scientific procedures, graduates are able, both when individually and working in teams, to cover ways of looking at a problem from the view of the operational and industrial practice and to develop technical and organizational solutions. In addition to the multidimensional analysis of the task, the development of alternative concepts, the organizational-technical implementation and product support round off the range of tasks. During their studies, graduates become acquainted with modern methods and tools, for example for the presentation and modelling of operational workflows and the extraction and storage of information which will be applied to own projects, partly in working groups or individually.
Curricular design
All studies are application- and practice-oriented. In the first two semesters, and in addition to a solid introduction to computer science and business informatics, students will be taught in mathematical and economic basic knowledge. This will be supplemented by a foreign language and interpersonal skills (soft skills). The following three semesters are dedicated to an in-depth training in computer science and business informatics while business subjects are flanking mediated. The main focus is on the areas of project, information and quality management as well as databases, information systems and Business Intelligence (Data Warehousing/Data Mining). In general, the 6th and final semester will take place in a company, comprising a practice module of 12 weeks and the following Bachelor project which completes the course of study during which practical work at the computer as well as numerous projects play a central role.
Graduates of the Bachelor's course in Business Informatics can qualify further in the Master's course Informatics which leads to the Master of Science degree (M.Sc.). This course, consecutive to the Bachelor's course, takes four semesters. The main focus here is on complex software systems whose mastery requires in-depth methodic knowledge in practice.
Scheme
The degree course is characterized by project-centered tuition and team orientation, since the very beginning. By application-oriented design- and project works, reports and lectures, students are enabled to independent scientific activity and entrepreneurial acting. Numerous internships in different computer-pools and laboratories of the faculty serve to acquiring the practical abilities and support the practical orientation of the Bachelor's course in Business Informatics. For the students' specialization, compulsory optional modules are offered. Materials on lectures, seminars and internships, such as scripts, seminar and internship tasks, literature reference and links for the students are made available by the Mittweida University of Applied Sciences intranet.
Admission requirements & Application
Information about admission, German language courses , costs of living as well as the application form are available at our web page: Application instructions for international applicants
Contact for international applicants
Application Service - Bewerberservice
Mrs. Simone Natzschka
Technikumplatz 17
09644 Mittweida
Germany
Phone: +49 3727 58-1269
Fax: +49 3727 58-21269
E-mail: application@hs-mittweida.de
Application deadline for the winter semester is May 15. We accept also later applications if there are free places and if, based on our experience, there is a chance for the applicant to to arrive on time for the studies.