---
Computer Science, Master of Science
| | |
| --- | --- |
| Responsible | Faculty Mathematics / Physics / Computer Science |
| Fields of studies | Computer Science |
| Degree | Master of Science, M.Sc. |
| Regular study period | 4 semesters |
| Further education | doctorate |
| Start/Typ of studies | winter semester / full time studies |
| Entrance limitation | No |
| Accredited | Applied to |
The Master's degree course Computer Science is a consecutive degree course, directly following the Bachelor's degree course of the same title. It is finished with the academic degree 'Master of Science (M.Sc.). Other Bachelor's degrees, for which the Master's degree course might be suitable in terms of additional qualification, are, amongst others, Business Informatics, Biotechnology/Bioinformatics, Multimedia Engineering, Information Technology and Embedded Systems. Key focus of the Master's degree course is on the development of complex software systems.
Occupational fields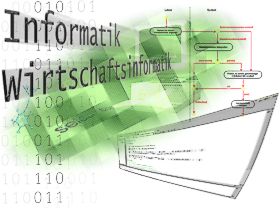 In practice, there are many tasks that require particularly sophisticated IT-qualifications, such as
Planning, development, introduction and maintenance of complex software systems, starting with the system software through to special application software

Distribution of complex hard and software systems

Consulting in planning, installation, application and restructuring of such systems (Consulting)

Conception and implementation of training courses

Administration of complex computer systems and networs

Management of computer centres, DP-departments, project teams or respective companies

Research in various subareas of informatics and its applications
Main reason for the required higher qualification level, which, compared to the Bachelor degree, is particularly expressed in additional management and administrative functions, is the increasing complexity of current problems in all areas of computer science and its fields of application. Knowledge of appropriate scientific methods and operating principles and the ability of abstraction, in line with the respective tools, is indispensible in order to solve these problems. Furthermore, a high social authority is expected, as complex tasks can usually only be successfully solved by qualified teamwork
The four-semester Master's degree course Computer Science aims for providing the competencies mentioned. It is finished with the academic degree 'Master of Science' (M.Sc.). The course excels by various optional subjects which allow for consolidation/specialisation, e.g. towards Computer Engineering, Geoinformatics or Medical/Bioinformatics.
Objectives of study
By doing the Master's degree course Computer Science, students acquire another vocationally-qualifying degree for a position as a computer scientist. Insofar, it is the general aim of this Master's degree course to extend previously gained subject-related (in terms of informatics) knowledge in a suitable and interdisciplinary way, both on theoretical and on selected practical or application-oriented sectors of computer science. Students are also expected to broaden their abilities regarding social competence and managerial responsibilities. This is to enable them to accomplish quite an abundance of tasks. Working independently and in team, and by means of modern techniques and scientific ways of operating principles, students become able to design, implement, put into operation and test complex/distributed software systems for various fields (starting with the system software through to application software) and by considering different practical requirements, but also to document, maintain and administrate these software systems, as well as to advise users and assess, choose or distribute such systems, taking on leadership functions at the same time.
Curricular design
The Master's degree course Computer Science excels by application and practice orientation. Compared to the Bachelor's degree course, more significant competencies are acquired, e.g. in terms of the use of modern technologies that are designed for the development of more complex software systems or methods of computational intelligence, for instance in data management, or in procedures for distributed processing in networks.
In addition, high social competence and strategic thinking are prerequisite. Beginning from the second semester, students can opt for a consolidation/specialisation, e.g. towards Computer Engineering or Geoinformatics or Bio-/Medical informatics. In addition, there are further options in terms of methods and procedures for analysis, modelling, simulation, evaluation and management of complex/distributed systems. By means of own research and development works, documents, reports and talks as well as joint projects, students of the degree course feel inspired to intensive independent scientific work, but to successful work in project teams and entrepreneurial acting, too.
In addition to theoretical investigations, practical and close to application aspects play a role, whose provision is supported by numerous practical trainings in several computer pools and laboratories of the faculty. Scientific superior tasks for the Master's course result in both the research departments of the university, and the faculty, respectively, and the cooperation with other universities and companies in the area, throughout Germany and in foreign companies.
Scheme
Within the scope of the present Master's degree course Computer Science, first and foremost, mindsets become shaped which devote more attention to complex/distributed architectures or network structures and their interactions such as concurrency/parallelism as well as interfaces between different elements. Due to the matter of fact that the design, implementation, use, application and management of these systems are difficult, numerous procedures perform in practice. Thus, the present Master's degree course attaches great importance to methods and procedures of computational intelligence (beginning with knowledge processing, and data mining, through to web analytics).
In the Master's degree course, practical trainings and project-related work play an essential role. In comparison with the Bachelor's degree courses, Master's degree courses distinguish by an increasing involvement in the faculty's research tasks. In the course of the Special Seminar, selected scientific issues of computer science and their application are analysed and discussed. In addition, the Master's degree course students acquire and broaden important transfer competencies (didactic, presentation as well as teaching and advisory competence) by integrating into the Bachelor's degree courses and under supervision and evaluation of a professor.
Admission requirements
Take up study in the Master's degree course Computer Science can applicants who possess a higher education degree in Computer Science or Information Systems, or who can prove a relating degree course, predominantly with subjects in computer science, or another degree which is recognized as equivalent. Within these, computer science modules of a total of 60 credits at least (without practical periods and final thesis) must have been awarded. Furthermore, a period of practical experience of at least 10 weeks has to be proved.
Application
Information about admission, German language courses , costs of living as well as the application form are available at our web page:
www.ausland.hs-mittweida.de
Applications for this programme may be submitted through the International Office.
Hochschule Mittweida
International Office
Mrs Saskia Langhammer
Technikumplatz 17, 09648 Mittweida, Germany
Phone: +49 3727 948 137
Fax: +49 3727 948 143
E-mail: langhamm@hs-mittweida.de

Deadline for Applications: 15th May