---
Applied Mathematics
| | |
| --- | --- |
| Course of studies | Applied Mathematics |
| Academic degree | Bachelor of Science |
| Start | WS |
| Regular study period | 6 Semesters |
| Further qualification | Applied Mathematics for Network and Data Sciences (M.Sc.) |
| Type of study | full-time studies |
| Description | English |
| Admission restriction | No |
| Tuition | No |
| Credits | 180 |
| Application portal | uni assist |
Important information to all new students (starting in October 2020) of the Bachelor's programme "Applied Mathematics":
All teaching modules of the winter semester 2020 (October - December) will be given online. Presence of students at the university is required as of March 1, 2021.
Background
The enormous technical progress during the last two decades resulted in highly innovative products and services that more than ever before are based on mathematical achievements. Modern mathematics is at the heart of an increasing number of innovations in the field of digital communication, satellite navigation, e-commerce, medical technology, and consumer electronics. Without modern mathematics there would be no navigation system, no mobile phone, no secure payment on the internet, no digital TV, and no MP3 player. Also there would be no efficient web search, no Blu-ray discs and no digital rights management (DRM). Modeling and simulation of computer and communication networks as well as social network analysis are also based on profound mathematical knowledge and methods. Current and previous developments in these highly innovative fields have led to a new understanding of mathematics. Modern mathematics is not only an auxiliary science for other sciences to solve technical and economic problems; nowadays it is considered as an independent, genuine technology. Its main characteristics are its algorithmic and technology-driven approach, combined with industrial relevance and innovation. The goal of this Bachelor's degree programme in Applied Mathematics is to pursuade young people to participate in these ongoing developments in a most competent and comprehensive way and to give them a promising perspective for a professional career in the field of mathematics and its applications to digital media.
Course Objectives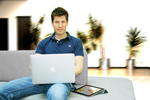 The focus is on the training of mathematicians who are working at the interface to computer science and information technology and are capable of solving difficult and complex mathematical problems in the context of digital media using computers quickly and efficiently. The course promotes the development of independent and creative ways of working and provides the ability to lifelong learning, teamwork and interdisciplinarity.
After completing the course,
you are able to start a professional carrier as a mathematician in a technical application field or begin a Master's course in mathematics or computer science or any other related field.
you have the ability to abstract, conceptual, logical, structural and algorithmic thinking.
you know the mathematical foundations of information security, coding and data compression, digital image processing and pattern recognition in multimedia data.
you are capable of solving mathematical problems in the context of digital media both conceptually and computationally, and are able to represent your results on a high level of expertise using modern media.
you are able to apply data mining techniques to social media and statistically analyze the data using statistical software packages.
you have substantial programming skills and knowledge of mathematical software and can customize the mathematical methods used and develop new mathematical models and algorithms as needed.
Employment Opportunities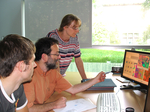 There is hardly a discipline where the job opportunities are as diverse and prospective as in mathematics. Mathematics is and still remains a subject of high job guarantee. Today, research labs of the high-tech and IT industry are employing an increasing number of mathematicians because of their analytical and methodological skills. Branches in which graduates are able to act are among others:
telecommunications,
IT-security,
software development,
microelectronics/consumer electronics,
social sedia,
automotive industry/telematics provider,
medical technology,
public service,
research and development,
teaching and training.
Due to the width of the programme, graduates can also become active in consulting firms as well as banks and insurance companies.